When David Bowie died, I found a lot of comfort in the links people were sharing on social media: favourite songs, YouTube clips of live performances and interviews, affectionate eulogies from friends of mine about how Bowie was a liberating force in their adolescent lives… And I remembered an old article by Bowie himself that I'd read in one of my mom's Vanity Fair magazines, in which he provided a narrated tour of a selection of his favourite albums. I remember he wrote with charm and humour, and demonstrated the capacious and genuine fandom that created the genre-hopping, persona-changing genius that the world was mourning.
I wanted to revisit this article, and I thought a lot of my friends would get a kick out of it for the same reasons I had enjoyed it so much over a decade ago. But the surprising thing was, it wasn't online! Not on Vanity Fair's site, not on a Bowie fan site—nowhere! So, I swung by the Toronto Reference Library, dug up an old copy of the magazine, transcribed the article and posted it online. I shared it with my friends, hoping a few people would get a kick out of it, just as I had. Little did I know…
Project
Confessions of a Vinyl Junkie.
David Bowie's favourite albums.

Components
Bootstrap; Sass; GitHub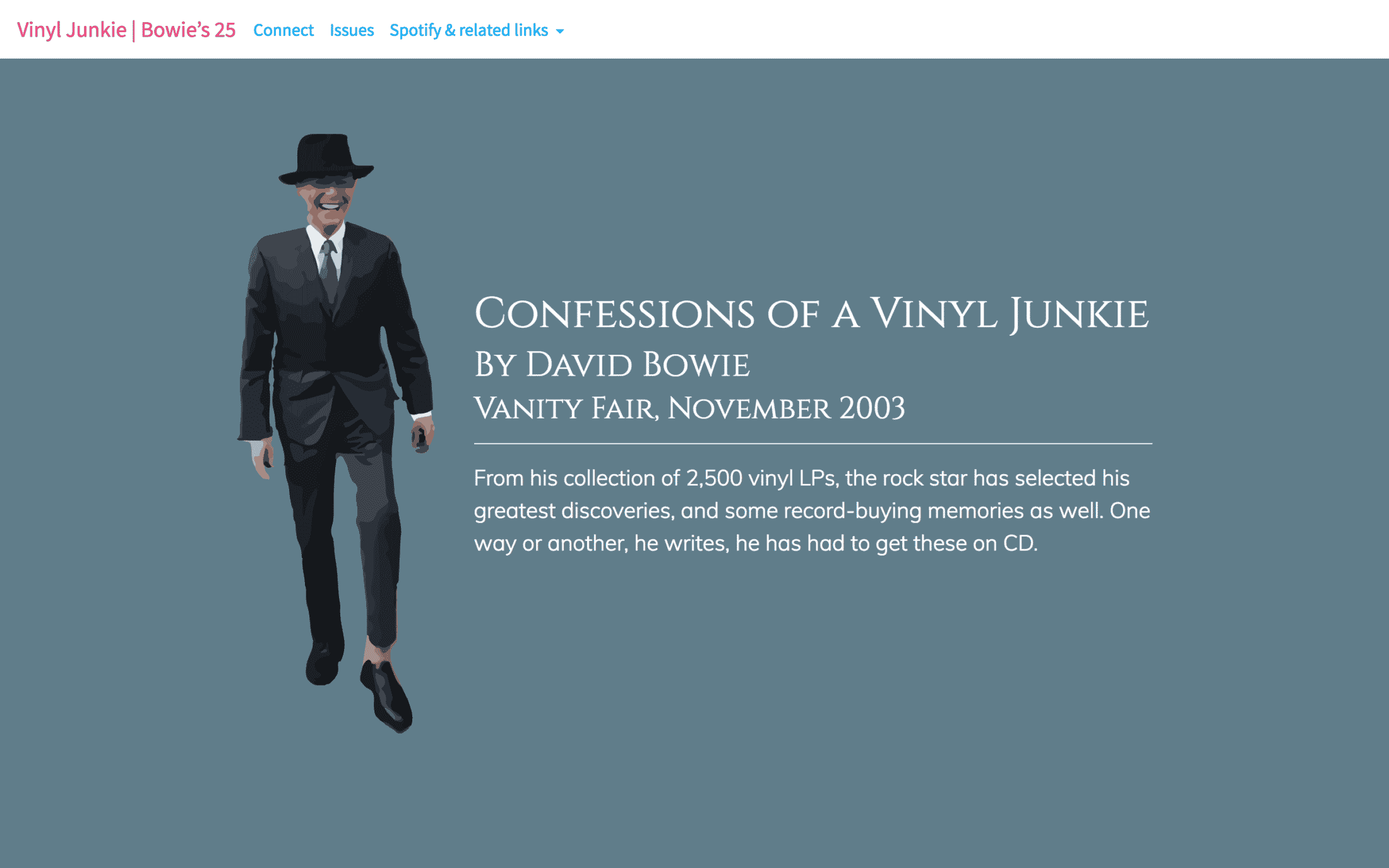 That feel when you've created unexpected value for the world
When I posted this project on FB, I had just planned for it to bring some solace and delight to a small number of my friends. It got a handful of shares and likes and I figured that was that. But for curiosity's sake, a few days later I decided to Google "David Bowie favourite albums." It turned out a site called Open Culture had featured the site with a post that, at that time, had over a thousand shares (five thousand plus, now). It seems my project had gone viral! 
Baffled, I went back to Google: the official Facebook page of Pink Floyd's Syd Barrett had shared it, with thousands of engagements; the Onion's pop-culture publication, The A.V. Club had blogged about it.
My site was the #1 result for 'David Bowie favourite albums.' I was getting thousands and thousands of hits a day to my little GitHub project. (Thanks, GitHub!) And the best thing of all was going to the YouTube videos I had linked to of the artists he had written about. Comments are usually such a regrettable area but these comments were different: people were writing that the David Bowie list had brought them there; they were having conversations about the music and about Bowie—"If you like this, you should really check out…."; "You can definitely hear the influence of this in the songs on…."
I had posted this project as one small effort in this shared global project of celebrating David Bowie. It did that: his taste in eccentric and creative music was rippling out and finding new listeners. But it also showed me that this promise of the web was still possible: This project brought people together from around the world to listen to music and remember a titan, and do so together, as an online community.